ŸCRF(The Christopher Reeve Foundation) and
APA(American Paralysis Association)Ÿ
---
"Together,
the possibilities
are endless."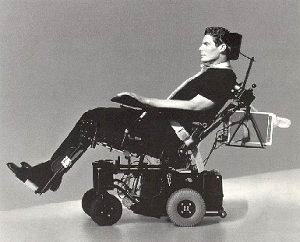 The Christopher Reeve Foundation:
Our Vision
The Christopher Reeve Foundation (CRF) stands at an historic
crossroads of spinal cord research, determination and hope.
Together, we know that it will be possible to repair the damaged
spinal cord.
Founded in 1996, our mission is to raise funds for medical research
leading to the development of effective treatments and - ultimately
- a cure for spinal cord injury paralysis. CRF serves as a source
of information and a voice for all people with disabilities.
Through grants, CRF also supports programs that improve the quality
of life for people with disabilities.Spinal Cord Injuries Touch
Millions of Americans
Over 250,000 Americans are spinal cord injured, with 11,000 new
injuries reported each year. More than half of these individuals
were injured between the ages of 16 and 30, with the majority (90%)
of people surviving and living near normal lifespans.
The incalculable personal loss and suffering for those who are
injured envelopes the lives of families, friends, colleagues and
peers. This is too high a price to pay, and the Christopher Reeve
Foundation believes that by working together, we can find solutions
that none of us alone can achieve.
In Search of a Cure: The Essential Role of Scientific Research
Medicine has made good progress improving the quality of care and
life for those who are spinal cord injured. However, this progress
comes at a high price, in some cases reaching $1.35 million per
person and as much as $4 million per institutionalized patient.
And those numbers can't begin to quantify the human loss and
suffering associated with spinal cord injury.
Neuroscience, however, offers the real promise of effective
therapies for spinal cord injury. But, researchers and
policy-makers agree that this will happen only with appropriate
levels of funding for basic science.
A number of recent breakthroughs in efforts to repair the damaged
spinal cord shed dramatic light on this promise. In 1996 Swedish
scientists promoted functional recovery in rats whose spinal cords
had been severed by treating them with a combination of a peripheral
nerve bridge, glue and nerve growth factor.
Here in the United States, researchers promoted recovered function
in rats with bruised spinal cords by using genetically engineered
cells that churn out a nerve growth factor. Other equally exciting
studies are being pursued in laboratories around the world. All
these efforts benefit, directly or indirectly, from the work of the
CRF.
Strategic Partnership with the American Paralysis Association
Founded in 1982, the American Paralysis Association (APA) has
established an international leadership role in funding spinal cord
research. APA is a respected national nonprofit organization that
makes worldwide investments to encourage and foster cutting edge
research to find a cure for paralysis caused by spinal cord injury
and other central nervous system disorders. Its strategic grants
have totaled more than $15 million worldwide in research activities
to speed progress toward a cure
The CRF wisely partners with the APA to direct its funds into these
proven research channels, including a collaborative network of over
300 investigators around the world. Together, these two nonprofit
organizations provide support for many of the seminal studies that
will culminate in continued medical breakthroughs.
Both organizations understand that a long-term commitment to funding
basic science is the key to a cure for spinal cord injuries.
Leadership, focus and cooperation must match the medical research.
Enhancing the Quality of Life
For thousands of Americans and their families, living with
disability is a costly challenge and we cannot wait for tomorrow to
meet the needs of individuals today.
The CRF also generously supports the work of nonprofits that are
addressing the quality of life for all people living with
disabilities. Organizations like the National Organization on
Disability and the National Family Caregivers Association have
benefited from CRF grants because of their important leadership
enhancing the lives of the disabled and their families.The
Dedication of Christopher Reeve
By giving voice and power to the Christopher Reeve Foundation, and
remaining active in the search for a cure for spinal cord injury,
Christopher Reeve draws us to the crossroads of science,
determination and hope. His sheer will and faith are matched by
countless others, scientists and laymen alike, who know that we are
on the threshold of unparalleled accomplishments in medical
research. The CRF exemplifies his indomitable spirit, and is
dedicated to the belief that together, the possibilities are
endless.
The Leadership and Board of DirectorsHow You Can Help
Christopher Reeve
President
Dana Reeve
Vice President
Joel Faden
Treasurer
Michael P. Frankfurt
Legal Counsel
Rober Solomon
Legal Counsel
Mitchell Stoller
Managing Director
Michael Manganiello
Executive DirectorJames M. Benson
Paul D'Addario
Bruce Droste
Harold M. Evans
Robert Halmi, Jr.
Peter Kiernan
Francine Lefrak
Ellen Levine
Barbara Walters
Marsha Williams
Robin WilliamsYour personal commitment and generous contributions
are deeply appreciated. All financial contributions, pledges and
bequests are tax-deductible to the full extent permitted by law. To
learn more about our valuable work and the research we support,
please feel free to contact us at P.O. Box 277, FDR Station, New
York, NY 10150-0277. Call us toll-free at 888-711-HOPE, or visit
our website at www.apacure.com.
Photos courtesy of Herb Ritts, Karen Hale Gambone and David Goodman.
---
@